Mykonos is one of the most vibrant holiday destinations in Europe and has earned an enviable reputation for its nightlife. The island is particularly famous for its beautiful whitewashed buildings, which complement the surrounding turquoise sea and the island's unspoilt sandy beaches. I'm sure every travel lover has at least one picture from a Greek island on their 'Bucket List' or 'Favourite Places' board.
A beach lover's paradise
Mykonos has no shortage of golden sandy beaches, with the best known to be ,the Super Paradise beach. Here, you can spot international celebrities, attend an exclusive party, or just lounge on the beach and soak up the Greek sun.
Climate
Besides its stunning natural scenery and friendly cosmopolitan atmosphere, another reason so many travellers choose Mykonos holidays is the island's fantastic climate. The island is blessed with sunshine on more than 300 days each year, and experiences a prolonged dry season with very little rainfall during the summer. Sea temperatures are generally warm enough for comfortable swimming from June until October, although it is still possible to enjoy a refreshing dip in the sea even until early December in some years.
If you're thinking of planning a holiday to Mykonos, Greece , here are a few of the exclusive hotel and villa partners Roxstar Luxury Group has in their collection.
VILLA LIVING
Surround yourself with quintessential Greek island scenery at Great Mystique. Despite its name, it's no mystery what gives this Mykonos vacation rental its appeal, from its charming architecture to its sunset views over the sea. Expansive outdoor living areas, six bedrooms and the option to book a sister villa make this property ideal for groups of friends on holiday together or an extended family.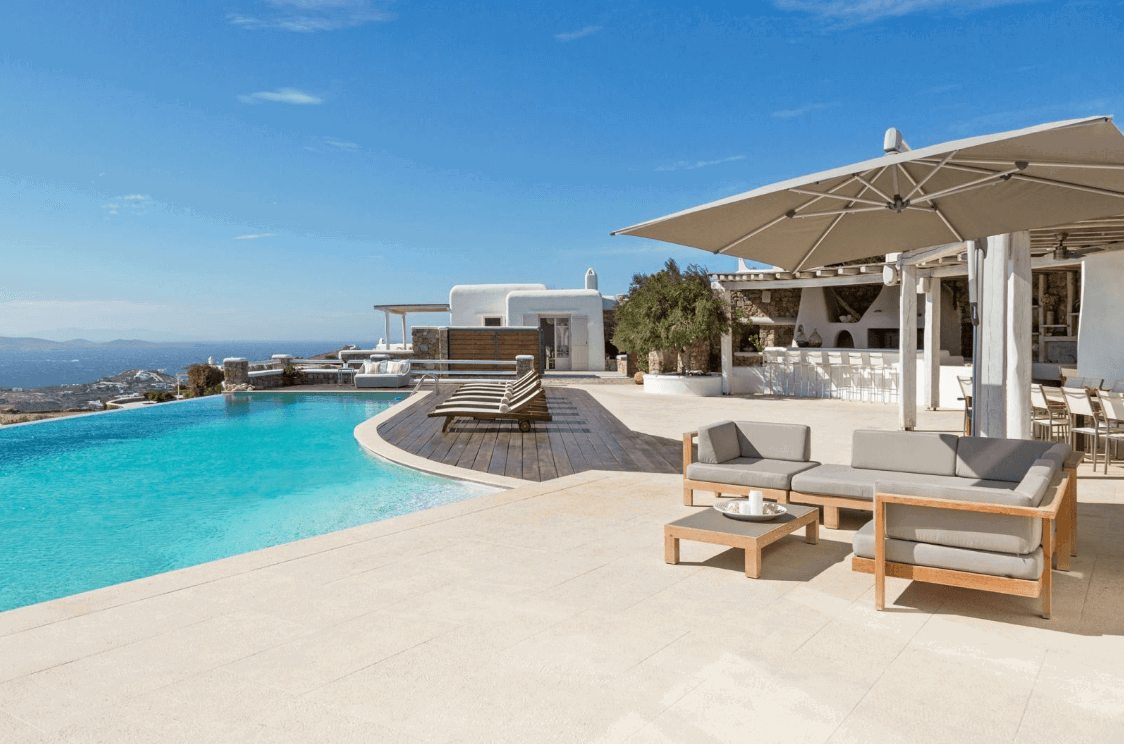 Nouvelle finds space atop the hill just to the back of Elia Beach, part of a brand new development of private properties overlooking the fine sand and clear waters of this famous beach on the southeastern side of Mykonos. The location allows for extensive views of the bay and sunshine throughout the day, while being within a short drive from the beach, the perfect distance to either join in on the "fun in the sun" or relax around the property's private pool.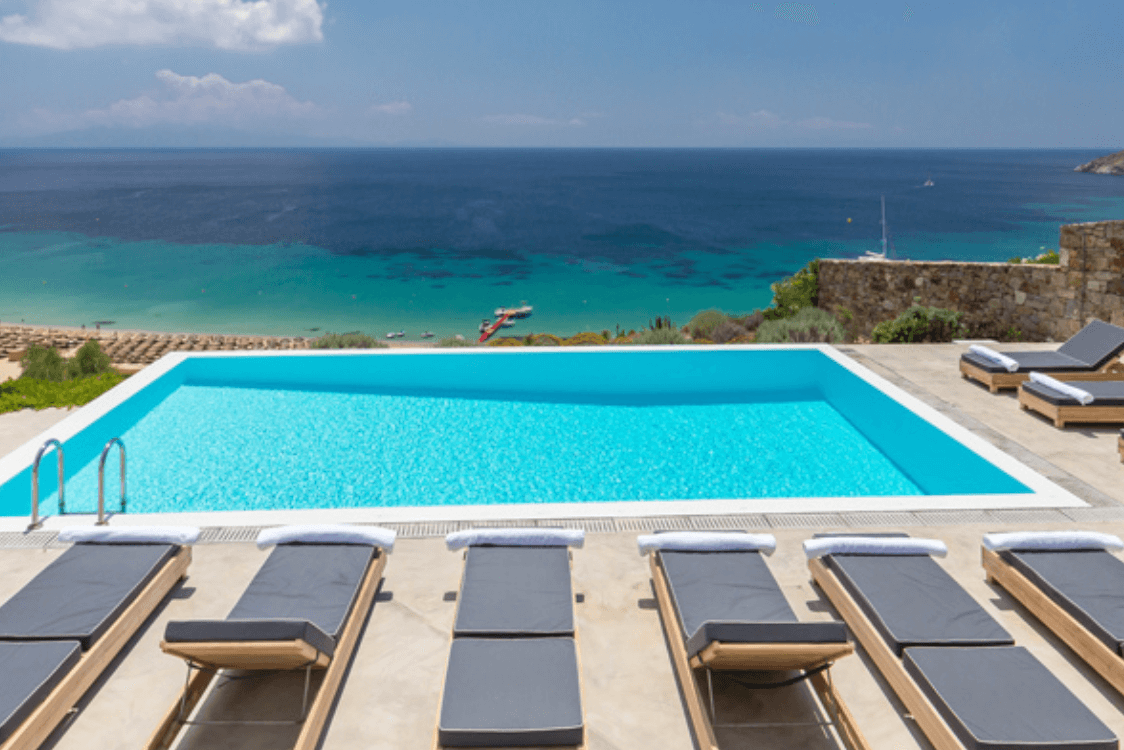 Kymothoe is a spacious oceanfront villa located in the Agios Ioannis area of Mykonos that combines a traditional Greek aesthetic with the finest modern amenities. The property shares a private entrance and parking area with Villa Okyroe and is situated just a few minutes by foot from the secluded sandy beach of Kapari. Experience the Aegean Sea like never before with Luxury Retreats!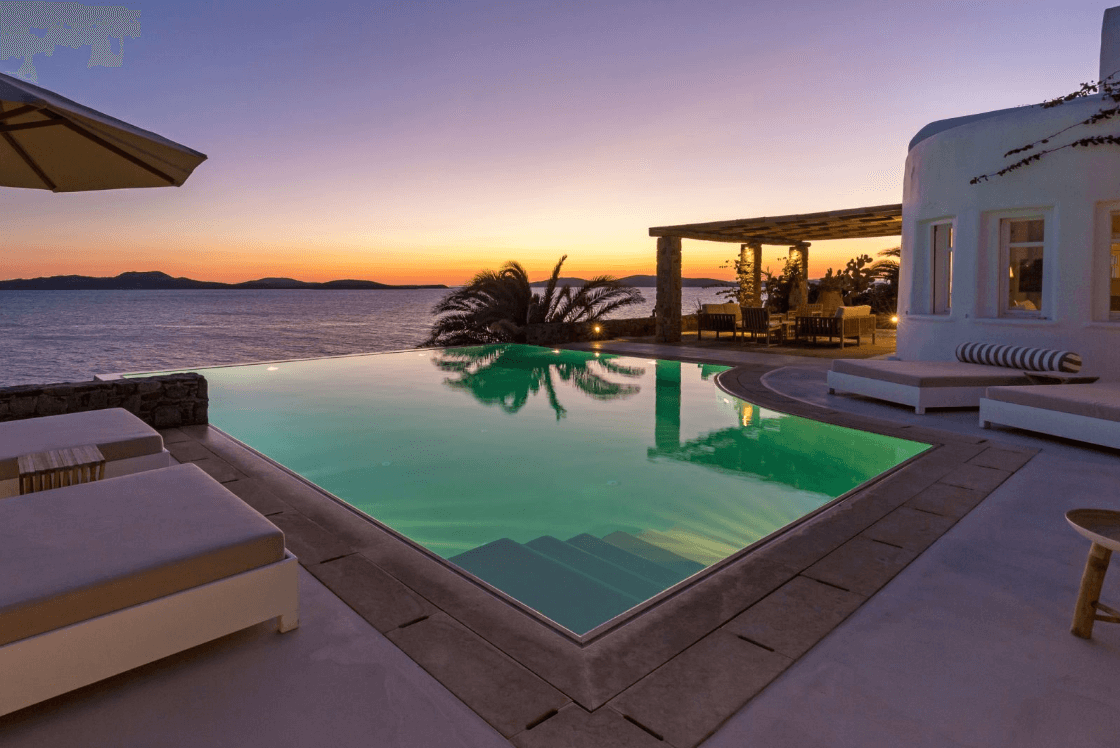 HOTEL LIVING
A 5 star hotel in Mykonos Town that will enchant you. You will be amazed to discover, while crossing the paved narrow street of our sophisticated 5 star hotel amongst the distinct Aegean style small white houses of Mykonos town, how perfectly the hotel architecture melts into nature. At daylight, all Semeli hotel's colors, stones, bushes and trees lie in perfect harmony with the sea and the sky, making you feel like home. When entering through the vintage entrance door of Semeli Best Hotel Mykonos, you are instantly overwhelmed by the luxury hotel's classicism, expressiveness and intimacy; some of Semeli hotel's trade-mark ingredients that make this the best 5 star hotel in Mykonos. Embodying the very best of the Mykonian hospitality tradition, our devoted personnel welcome you with sincere warmth, ready to satisfy your needs and desires with our top quality luxury hotel services and facilities.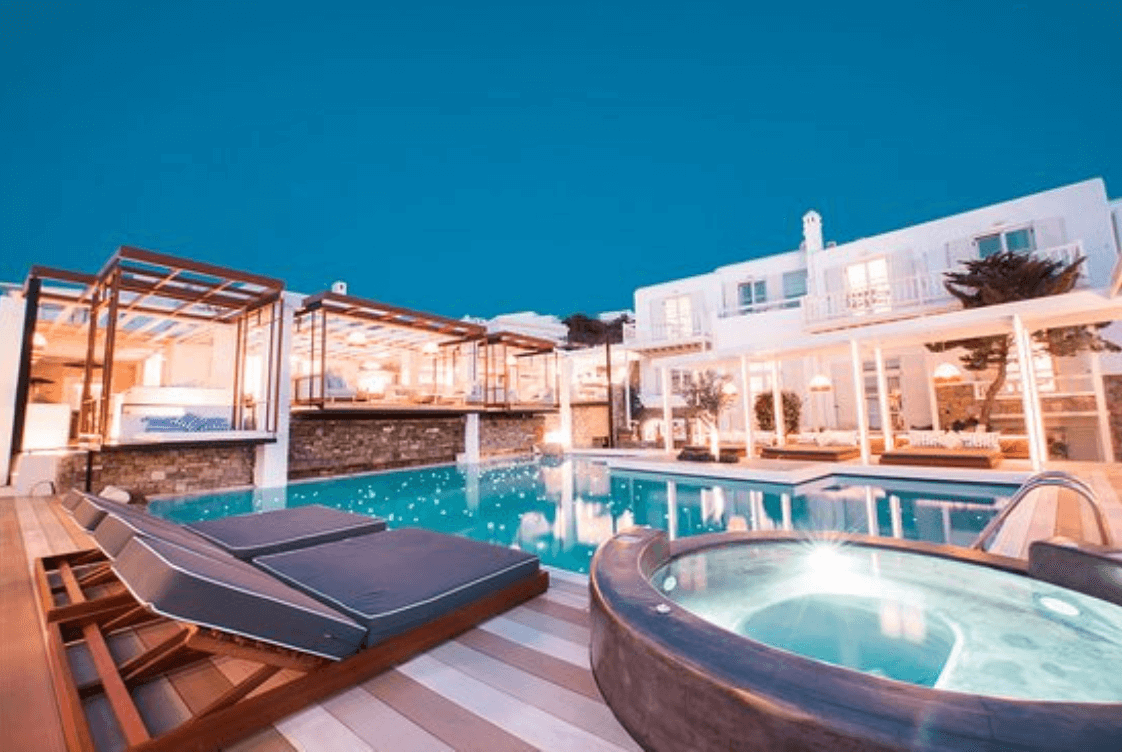 Santa Marina offers the best beach experience of any resort in Mykonos. Ours is the only resort with its own private sandy beach, providing an unrivalled sanctuary where you can swim and sunbathe in blissful seclusion at the edge of the blue Aegean. Nestled in a quiet cove – offering protection from the famed Mykonos winds – this curve of golden sand slopes gradually into crystal-clear, shallow waters.To ensure the ultimate in beachfront luxury, we are pleased to provide our guests with complimentary cabanas set along our private wooden jetty, as well as sun beds, umbrellas and beach towels. This is the only private resort beach of its size, offering attentive service, chic dining and panoramic sea views. Relax in the shade, a cool drink in hand, and gaze at the mega yachts as they cruise along the coastline. More than a beach, Santa Marina is like an exclusive club – a meeting place filled with fascinating individuals from around the globe. Santa Marina offers a truly privileged lifestyle, and our resort guests love having the best Mykonos beach experience at their doorstep.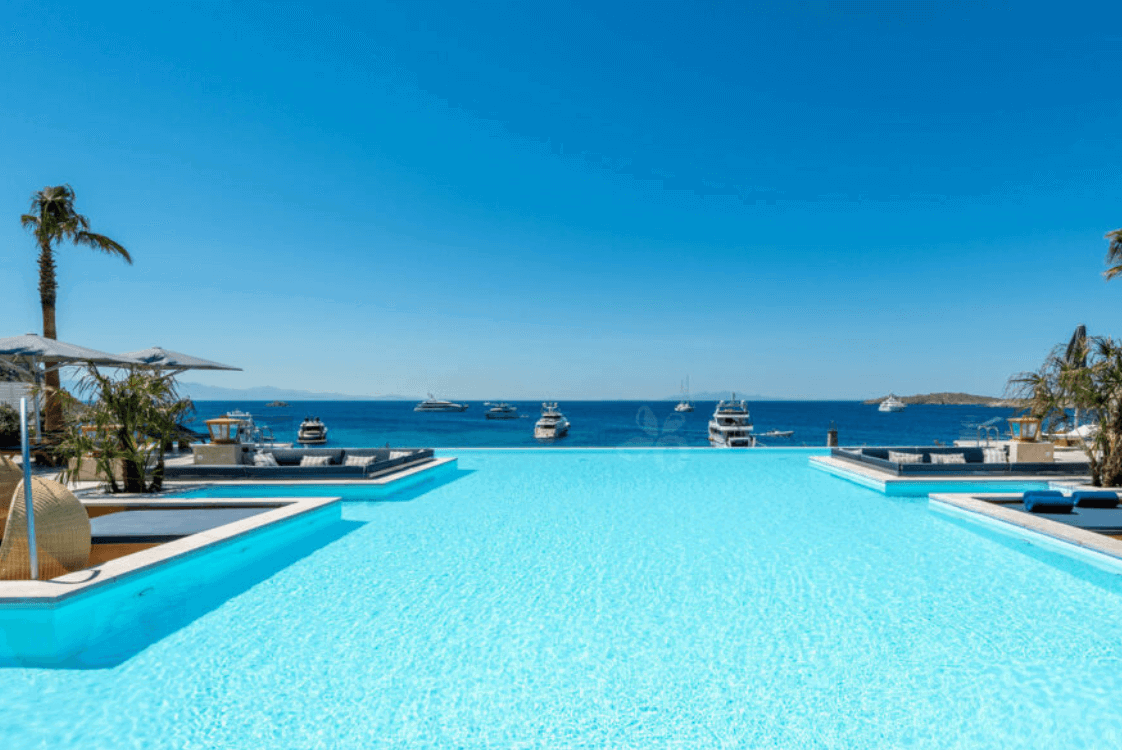 Framed by a verdant garden, the Belvedere Hotel is a universe of transformation: 35 luxury rooms, 9 suites and 1 Mansion unlock endless possibilities, played out against the turquoise backdrop of a mesmerising pool. Belvedere enhances your Myconian experience with 4 more accommodation options, 1 Waterfront Villa, 2 Pied a Terre apartments at Little Venice, a luxurious Villa Next Door and 26 Hilltop Rooms & Suites only 250m away from the main complex.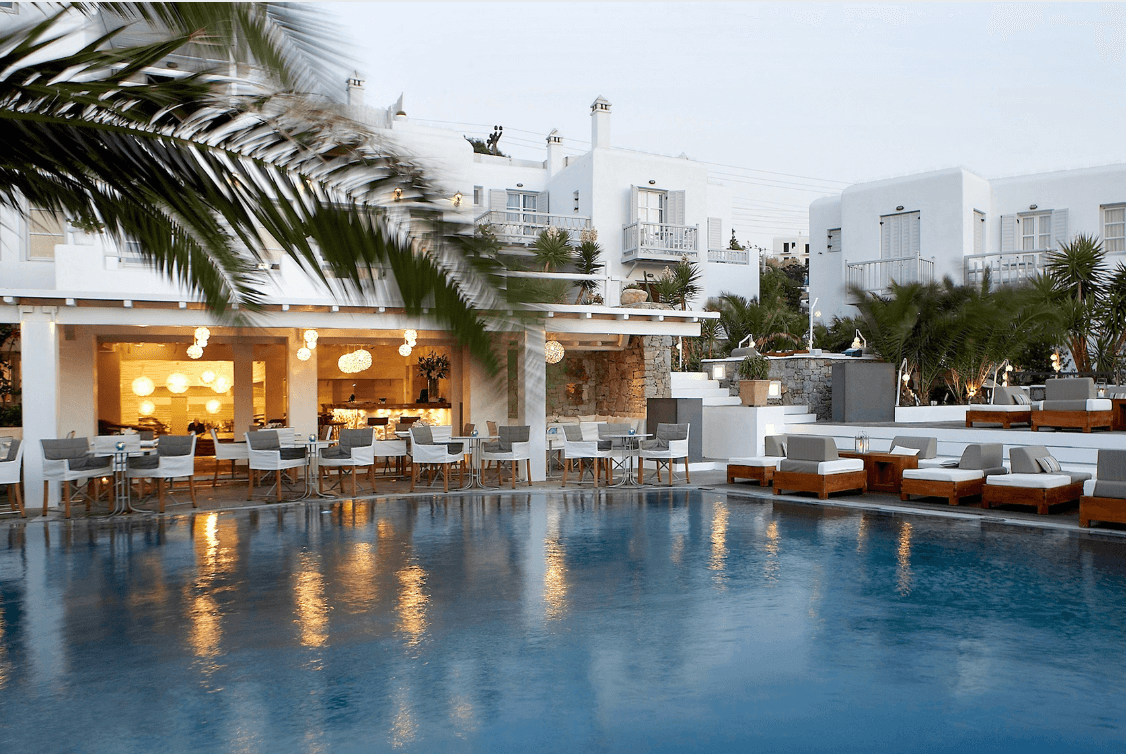 Whether you want to enjoy your Mykonos holiday in a villa or one of our hotel partners, we are sure to have an idyllic escape in our destination collection.
For more information on how Roxstar Group can manage your global travel needs please visit: www.roxstarhotspots.com and www.roxstarluxurygroup.com